Foundation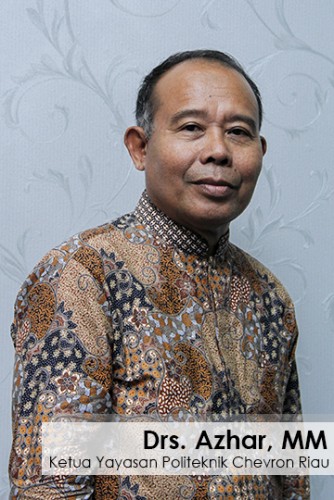 The journey of Politeknik Caltex Riau (PCR) started in 2001. Many breakthroughs have been introduced in order to elevate the service such as improvement in infrastructure, new buildings, as well as lecturers' quality development.
"To be outstanding polytechnic" has been the vision of PCR since its first operation. Although many obstacles were faced during the first years, PCR has proved that the consistency in maintaining the quality secure its position among top campuses all over Indonesia.
Due to the high demand of qualified workforce in Riau Province to fulfill strategic position in industry, PT. Chevron Pacific Indonesia and the Government of Riau Province came into agreement to initiate the establishment of PCR. The idea was triggered by former governor, Mr. Saleh Djasit and former President Director of PT Caltex Pacific Indonesia, Mr. Baihaki Hakim. In the year of 2000, the megaproject started. A year later, the dream campus welcome its first generation.
The Foundation of Politeknik Chevron Riau has been preparing PCR to be professional and independent at the very first place. Performing professional and accountable management, this dream finally came to reality. In the year of 2007 CPI stopped its financial support. Not only that PCR succeeded in becoming independent, we also made some improvement in infrastructure. By offering better facilities, it will lead to the increasing of student body since there are more future students who want to study in PCR.
More than 1900 alumni have been released and they are proven to be competitive in industry. Many are now working in both national and multinational companies. This condition leads us to dream bigger and serve better.
SUSUNAN DEWAN PEMBINA, PENGURUS & PENGAWAS YPCR
PERIODE 2018 - 2022
| | | |
| --- | --- | --- |
| Organ Pembina | | |
| Ketua | : | Ir. Albert B.M. Simanjuntak, MBA |
| Anggota | : | Ir. A.H. Batubara, MBA |
| Anggota | : | H. Saleh Djasit, SH |
| Anggota | : | Ir. Baihaki H. Hakim |
| Anggota | : | Ir. Humayunbosha |
| Anggota | : | Ir. Suwito Anggoro, M.Sc |
| Anggota | : | Dr. drh. Chaidir, MM |
| Anggota | : | Drs. H. R. Mambang Mit |
| Anggota | : | Ir. Wahyu Budiarto |
| | | |
| | | |
| Organ Pengurus | | |
| Ketua Umum | : | Drs. Azhar, MM |
| Ketua I | : | Ir. Bambang Widjanarko, MSEE |
| Ketua II | : | Ir. Suharnoto |
| Sekretaris | : | Drs. Ahmad Diponegoro, MA, MM |
| Wakil Sekretaris | : | Sapaat, SE, MBA |
| Bendahara | : | Rimbalis Rachman, SE.Ak |
| Wakil Bendahara | : | Adriansyah, SE.Ak |
| | | |
| Organ Pengawas | | |
| Ketua Umum | : | Lamsana Sirait, SE.Ak, MM |
| Anggota | : | Simon Elimander, SE.Ak |
| Anggota | : | Raditya Alfadian, SH, MHum, LLM |