Programs
Telecomunication Engineering
Telecomunication Engineering Program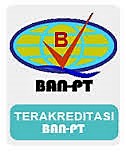 As one of the first study programs established, Telecommunication Engineering is opened to fulfill the demand of professional workforce in telecommunication sector. The study program obtained its B accreditation since 2008.
Vision:
"To be a globally qualified study program and to be able to produce excellent graduates in Telecommunication Engineering that can competence at National and ASEAN level on 2031".
Mission:
Organizing Vocational Education System in Telecommunication which always adjust to the latest Telecommunication technology development to produce Human Resources, Hardware and Services that can competence at National and ASEAN level.

Produce professionals in Telecommunication with network and wireless communicaion that competence at National and ASEAN level.

Develop and apply the values of ethics, religious morals, and academic morals so as to produce graduates in the field of Telecommunications a noble character.

Developing applied research and community service to serve the needs of Telecommunication industry covering human resource requirement, technical consultation, and research.
The purpose of the establishment of the Study Program:
Produce graduates who are qualified and able to compete globally In the field of Telecommunications.

Increasing the participation of community elements to explore the field of Telecommunications.

Creating research product that is efficient and effective for the community in order to fulfill telecommunication industry demand covering human resource, technical consultation, and research.
Study Process
Teaching and learning activities are divided into two, namely theory (in Class) and practice (in Laboratory). The percentage of theory is 42% while practice is 58%. Thus it is expected that Telecommunication Engineering program students will have good practical skills as well as good theoretical understanding.
In supporting the study process, Telecommunication Engineering Study program offers the most complete and sophisticated laboratories. High-end equipment such as Analyzer, Fiber Optic Splicer, OTDR, Waveguide trainer, Antenna Trainer, Design Software for Cellular Communication, CISCO networking hardware, Microtic hardware, Steam Solder, Transmission Line Demonstrator, digital oscilloscope, and EMC Trainer are available for the students to use in their lab practicum.
Student Activity
Students in Telecommunication Engineering Program are not only equipped with hard skills ability but also motivation and platform to develop their soft skills. Many activities that can be followed by students such as organizing Himatel (association of telecommunication students), sports activities, and social activities (student care). Students are also involved in lecturers' research activities and community service activities.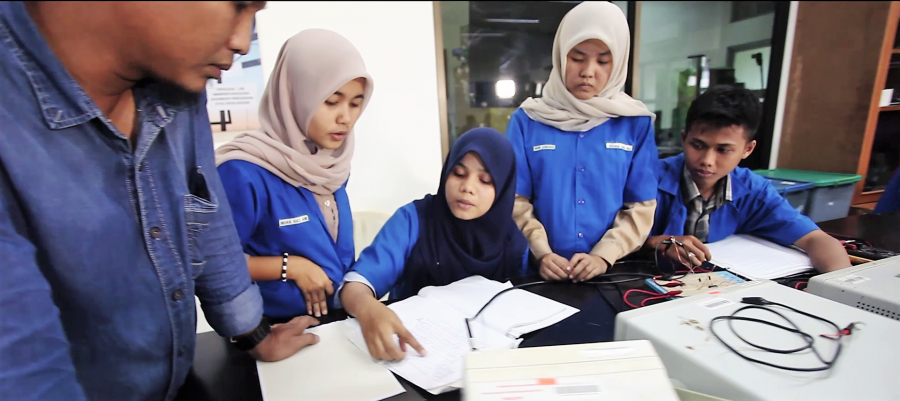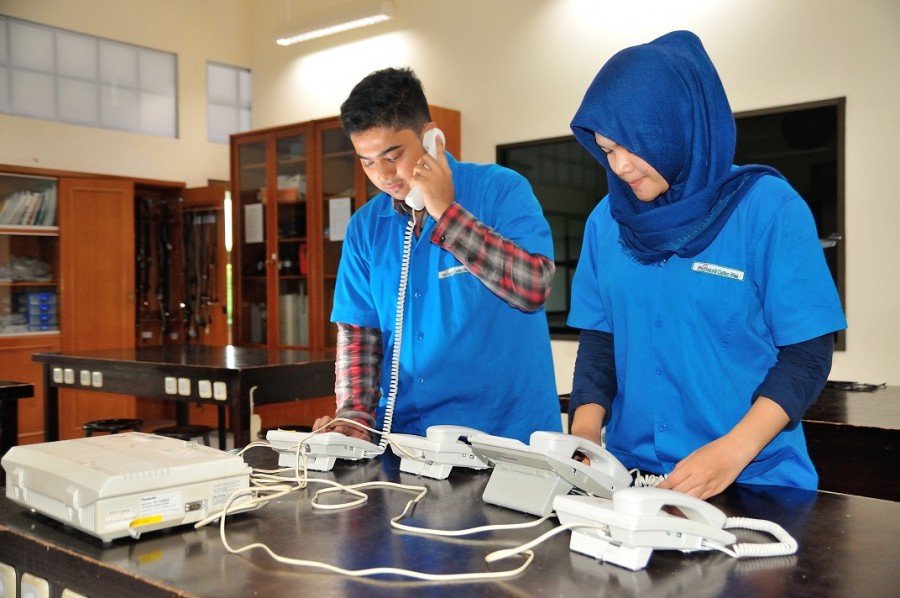 Research
Students are given both hard skill and soft skill. They are included in lecturers' research and outreach program. Some research created by students are as follows:
Dashboard design on PCR TV Streaming

Scalable Video Coding implementation by using Video H.265 on LAN

Array Dual Band Antenna for Wifi Band 2.4 GHz and 5 GHhz

Iir Filter Modul using Arm Cortex STM 32 F401

3d camera implementation for presentation kit

Accident scene detection system using Smart City Application

Quadcopter automatic remote control with Global Position System

Mineral detector in food pack using microcontroller

Ultra Wide Band (UWB) Antenna For Tv Applications, Wifi And Celullar

Control System Quadcoper with Global Position System

Metal Detector Design on Food Packaging Using Microcontroller

Rain Detection Information System by Uding IP Camera on Smart City via Android Application

Dust Pollution Monitoring Tools
Research conducted by lecturers:
Rectifier Antenna (Rectenna) as RF Energy Converters into Low Power Electricity Development of Navigation Aids for the Blind

Wireless Sensor Network Implementation for Early Detection of Forest Fires

Measurement and Quality Analysis of 3G Networks in Pekanbaru Area Using Nemo Outdoor Software 6.0

Design and Application DC 12V Inverter - AC220V Two Levels Using Controlled Boost Converter Fuzzy PI

Implementation of Video Delivery Using High Efficiency Video Coding (HEVC) on Cellular Network

Voip Handover Performance Analysis on IEEE 802.21 MIH Based WLAN System

Measurement of the Effect of Real Rain Water Permitivity to Micro Wave Communication
Main and Supporting Competencies
Main Competencies:
1. Having the ability to design, install, and maintain telecommunication networks (including optical communication, wireless wirelid and wireless).
2. Having the ability in maintaining and repairing mobile communication system (mobile communication) and multimedia broadcasting.
3. Having the ability in the design and implementation of computer networks (LAN and WAN) based on system integrators in the field of Information and Communication Technology (ICT).
4. Having the ability in the development and maintenance of computer networks (LAN and WAN).
Supporting Competencies
1. Having the attitude and personality as a good citizen, pious, tolerant, and spirit of teamwork and patriotism.
2. Can solve technical problems using the data / information available.
3. Can communicate and cooperate with other areas of expertise.
4. Able to coordinate the tasks in the work environment.
5. Able to entrepreneurship in Telecommunication Electronics field
6. Able to communicate with English
7. Proficient, meticulous and skilled in area of ??expertise.
8. Able to follow, apply and respond to the development of science and technology.
9. Able to adapt to work environment.
Future Career
Telecommunication Network Operator

Internet Service Provider

ICT

Oil and Gas Companies

Manufacturing Companies

Civil Servant

Education Sector, etc
Certificate of Accreditation of Telecommunication Engineering Program :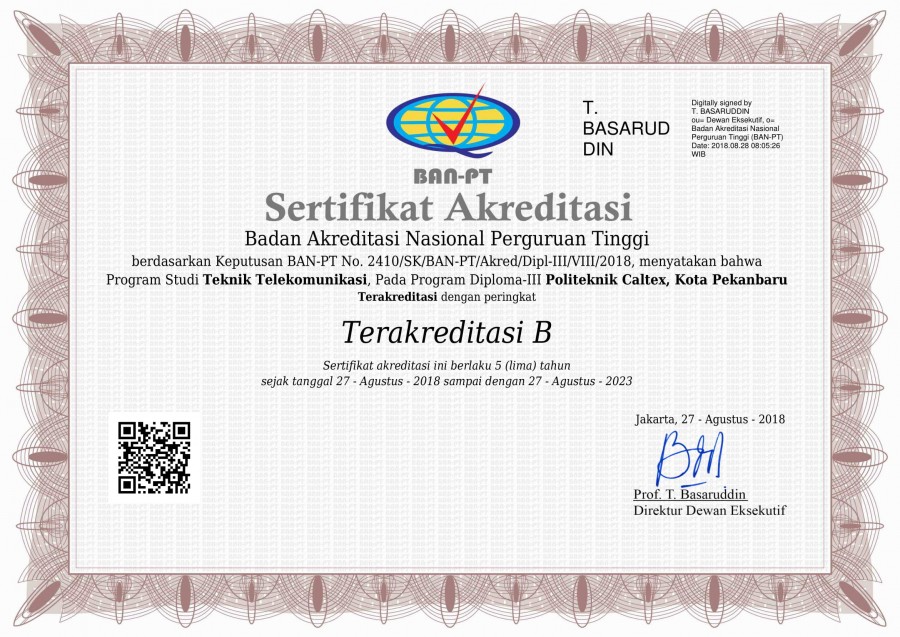 Certificates can be downloaded here