Accounting Program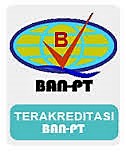 Accounting Study Program was established in 2003. The objective is to fulfill the demand towards professional workforce in Accounting.
The students of Accounting Study program are provided with competencies such as writing, analyzing, and presenting financial statement based on accounting standard given by Indonesian Federation of Accountants (IAI), budgeting, tax administration, standard auditing, accounting information system application, and computer application for accounting process.
The study process consists of 60% practice and 40% theory. In giving the best study process, the facility such as laboratory is provided. Besides, there is also an Investment Gallery which is incorporated with Indonesian Stock Exhange (IDX) and Valbury Asia Securities.
The students are introduced with computerized accounting program i.e. Mind Your Own Bussines (MYOB) in advance. They will also get the certification after passing the test given by PT Net 21 Plus (a MYOB license holder company). The certification itself is very selective. Students must pass in their first test, otherwise, there will be no other chance in getting this certificate.
The students of Accounting Study Program will have one semester internship which is divided into two batches. Some companies such as Pertamina, Bank Jabar Banten(BJB), PT Telkom have been our partner in providing internship for the students.
Besides the program offered, a more applicative material and pattern are given to match with market demand. Modules are freely lent to the students to support the study process. The laboratory offers complete and up to date equipment. The study process becomes more interesting, thanks to qualified lecturers and teaching staff who are coming from various top universities.
The graduates of Accounting Study Program have been filling some strategic positions in national and multinational companies.
Study Program Competence offered:
Finance Accounting

Oil Acounting

Plantation Accounting

Computerized Akuntansi